Hi! My name is Rebekah Miller, and I'm a Licensed Marriage & Family Therapist and Somatic Experiencing Practitioner in Golden Valley, MN. I specialize in helping individuals, couples, and families work through trauma, relationship distress, and sexual concerns. I combine genuine care for you and your family, with honesty, humor, and a belief that you have the strengths to overcome your challenges. I tailor my solution-focused approach to your needs in order to help you and your loved ones attain the personal growth you're striving for. I am curious and interested in you and your experiences in your family and relationships. I enjoy getting to know people like you. Some sessions together will be emotionally hard. Many will be eye opening and energizing. We will celebrate together as you find the freedom and joy that comes from making lasting change. I am passionate about the opportunity to provide care and support to people like you who are working to navigate life's challenges. In my work, I draw on personal experiences as a wife, a mother, a twice-deployed veteran of the Army National Guard, a pastor's daughter, a sister to 3 brothers, and a committed friend.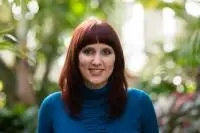 Find your voice. Be Heard. Be Known. These words are my motto for personal growth.
I have walked through my own struggle to find my voice. I have learned how to use my
voice in a way that allows me to be heard in my relationships. As I have grown, I have
experienced the joy of being known and accepted. I want to help you experience that joy as well.
My commitment to inclusion and non-descrimination : I strive to make therapy a safe, inclusive, and welcoming space for all people. I wholeheartedly welcome all genders, all orientations, all relationship structures, all abilities, all races, all religions, all countries of origin, all people. I always work to provide care to people without discrimination on the basis of race, age, ethnicity, socioeconomic status, disability, gender, health status, religion, national origin, sexual orientation, gender identity or relationship status. I am aware of my privilege as a white, middle-class, cisgender, heterosexual woman, and I work to manage the biases and assumptions that I was raised with. I want an authentic relationship with each client, which means that all topics are open for discussion, exploration, and processing together.

Why do I love my work as a therapist?

Because I have seen hope renewed where all hope seemed lost.

I have witnessed how courageous individuals overcome seemingly insurmountable challenges.

I have seen severely damaged relationships refreshed in meaningful ways.

And I have witnessed how families can access their own resources and strengths to overcome seemingly impossible challenges.

And I get to play a part in helping these courageous people renew hope, overcome insurmountable challenges, refresh damaged relationships, and access their own resources and strengths.

There is always hope.

I would love to join you and your family in renewing hope, overcoming challenges, and building upon your strengths.

******************************************************************************
Education & Training
Master of Arts, Marriage and Family Therapy, SMU
EMDR: Eye Movement Desensitization & Reprocessing is a specialized trauma treatment.
Somatic Experiencing Practitioner (3 year training): Somatic experiencing is a body-oriented trauma treatment.
Relational Life Therapy Level 1 and 2 Trained: Terry Real's solution-focused, relationship empowerment couples therapy approach.
Currently under supervision and accruing hours and training toward sex therapy certification.
Prepare/Enrich Premarital/Marital Enrichment Trained
40 hours of Sexual Violence Training, N.I.P.
Victim Advocate, Army Sexual Assault Prevention & Response Program
Applied Suicide Intervention Skills Training, Living Works
Prevention & Relationship Enhancement Program, PREP
Bachelor of Arts, Pastoral Studies, NCU
Professional Activities and Memberships
American Association of Sexuality Educators, Counselors, & Therapists (AASECT)
Minnesota Association for Marriage & Family Therapy (MAMFT)
Somatic Experiencing Trauma Institute